China Cangzhou Hardware and Building Material Export Digital Trade Fair
Share
Issue Time

2020/09/14
Summary
The Cangzhou hardware and Building Material Trade Fair is a new online exhibition, mainly for manufacturers and suppliers of Steel Pipe Fittings and other types of haredware and building material in Cangzhou.
China Cangzhou Hardware and Building Material Export Digital Trade Fair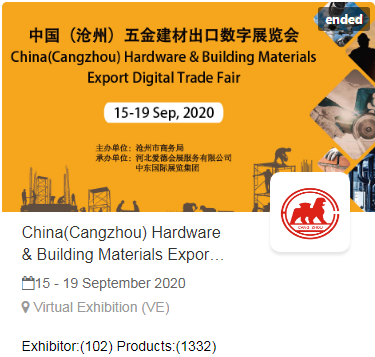 Related content of the exhibition

1. Live Streaming link: https://www.globaltradeweek.com/exhibitors/detail/2008063589
2. Time:
15- 19 Septemper 2020, 5x24 hours
3. what will be showed in the live video
A. daily work of our factory
B. Production process of the seamless steel pipe fittings
C. cooperation guidance
D. Our service and solutions of after-sale problem
Want to get a free samples and need a fast quotation for your projects? Contact us now!
Email: steel@chinajsgj.com
Whats App: +8618332471207
Wechat: JSFITTINGSCHINA
About JS FITTINGS
Since 1983, JS FITTINGS has devote a great time and money to controlling the quality of carbon steel pipe fittings and pipe flanges. Our products are Steel pipe fitting, seamless pipe fitting, butt weld pipe fitting and all international types of flanges.
In 2020, JS FITTINGS will take more time on the high pressure pipe fittings which has longer using time and higher quality for oil, gas and water pipeline.